Mazda's 2013 Model Lineup offers a vehicle for every buyer, from those looking to save on gas to those looking to spread out in 7-passenger comfort there's a 2013 Mazda for the job. Every Mazda is built with the driver and the driving experience at the forefront of design because if a cars not worth driving it's not worth building. From the performance oriented 2013 Mazda Speed3 and 2013 Mazda MX-5 Miata to the family moving 2013 Mazda5 and 2013 Mazda CX-9, choosing Mazda means a driving experience focused on you, the driver. Performance and fuel efficiency don't always go hand-in-hand but with Mazda's SKYACTIV technology you get the best of both and SKYACTIV technology has been awarded a "2013 Green Car Technology Award" from Green Car Journal. Add in Mazda's proven track-record of vehicle reliability and choosing from the 2013 Mazda Lineup makes perfect sense.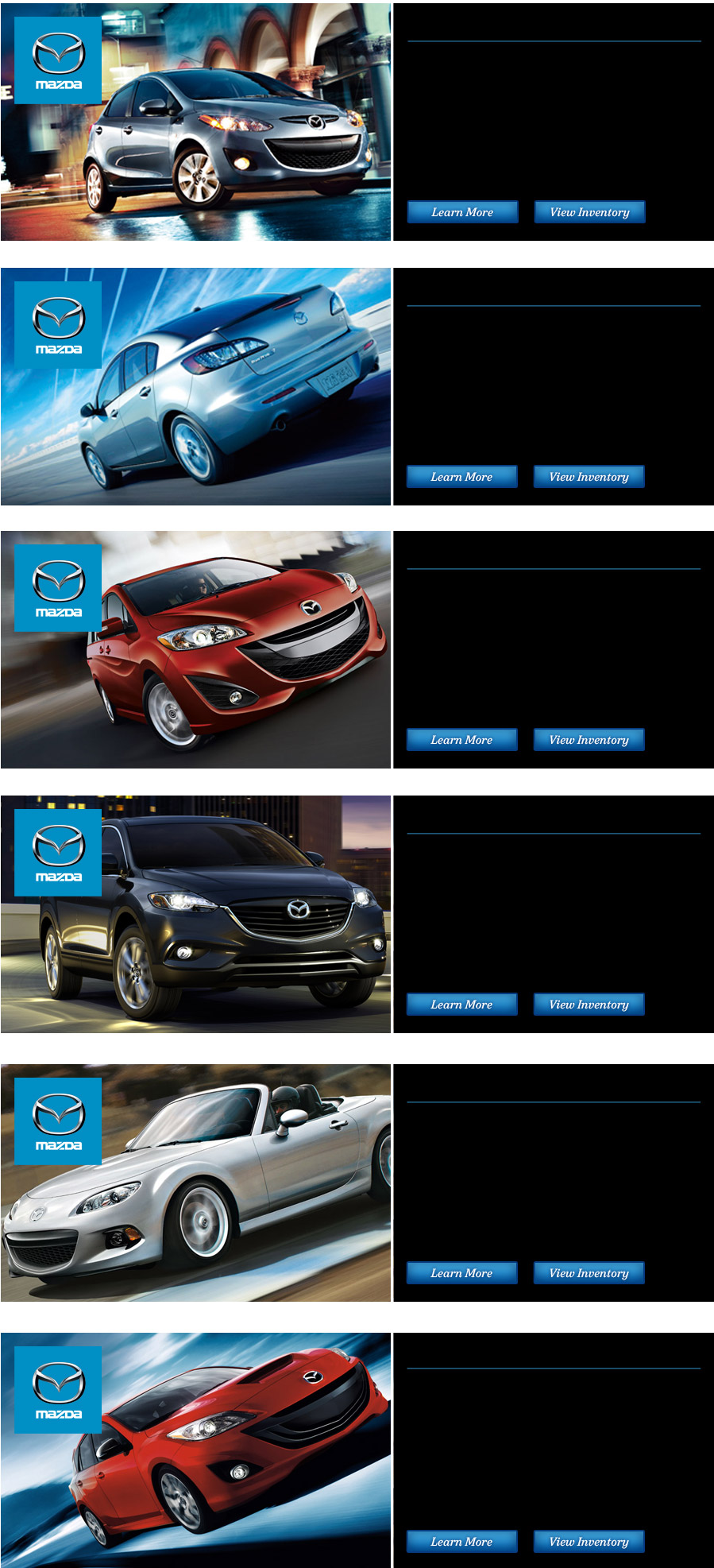 2013 Mazda2
The 2013 Mazda2 combines fuel efficiency and performance in a compact package; offering drivers an exhilarating driving experience and an EPA-estimated 35 MPG highway. Inside Mazda2 find impressive space for a compact car with room to seat five adults comfortably while a 60/40 split-folding rear seat and extra deep cargo floor allow for 27.8cu-ft of maximum cargo capacity. Mazda2 offers the reliability, performance and efficiency you want in an economy car and today's hottest technology like Bluetooth with streaming audio capability and steering-wheel-mounted controls that put control at your fingertips.
2013 Mazda3
The 2013 Mazda3 delivers the best of what Mazda offers in an affordable, versatile and spirited compact car. Impressive acceleration and handling give driver's something to look forward to in a world of boring compacts; in Mazda3 you don't have to sacrifice fuel efficiency for performance either. With Mazda3's SKYACTIV-G engine you get the best of both worlds; a quick-responding 2.0L 4-cylinder with 155-HP and as much as an EPA-estimated 40 MPG highway. Versatility is the name of the game inside Mazda3, where you'll find surprisingly spacious comfort and exceptional cargo space.
2013 Mazda5
Climb in the 2013 Mazda5 and leave boring minivans behind with sporty performance, athletic styling and loads of interior space. Two sliding doors remain on Mazda5 to access the four rear seats for a maximum of six adult passengers but every other aspect of the Mazda5 is designed to offer you a driving experience like no other family mover. A powerful 2.5L 4-cylinder engine offers solid acceleration and exceptional fuel efficiency with an EPA-estimated 28 MPG highway. Inside Mazda5 find standard Bluetooth, steering-wheel-mounted controls, comfortable leather seating and much more making Mazda5 the perfect solution to a need for space.
2013 Mazda CX-9
Spread out in the CX-9's spacious cabin with seven-passenger seating and all the technology and convenience features today's families need. With a 2013 5-Year Cost-to-Own award from KBB.com in CX-9's trophy case families across America are choosing the CX-9 as their family car. Agility and handling can be hard to find in seven-passenger crossovers but CX-9 delivers both, as MotorTrend puts it, "As a high-speed, canyon-carving seven seater, the CX-9 is severely gifted." Corners are a playground for CX-9 and you may just forget you're driving a seven seat crossover.
2013 MX-5 Miata
When it comes to affordable, easy-to-own and easy-to-drive sports cars the 2013 MX-5 Miata sets the bar and has for over twenty years. Miata is the single best selling sport car in history and over 900,000 owners cannot be wrong. The Miata, now in its fourth generation, offers a driving experience that can't be beat, as lightweight design, perfect weight balance, crisp and precise steering and a powerful MZR 2.0L 4-cylinder with 167-HP combine in a beautiful symphony of automotive performance. Take the top down and enjoy the road like never before in the 2013 Mazda MX-5 Miata.
2013 Mazda Speed3
Few cars combine versatility and extreme performance like the 2013 Mazda Speed3. Taking Mazda3's already impressive package to new levels of performance, the Speed3 is the choice for those not willing to compromise. You still get all the technology, space, comfort and versatility of the Mazda3 but with performance that will throw you back in your seat. Experience pure adrenaline from Speed3's close-ratio six-speed manual transmission and 263-HP MZR 2.3L DISI Turbocharged engine; while the torque-sensing conical limited-slip differential and MazdaSpeed-tuned suspension and brakes keep all those ponies reigned in and power heading to the pavement.