2017 Mazda CX-3 Review
Compact SUVs have become a way of life for many families. With the perfect balance of power and cargo space, these vehicles are the ideal people-movers. But with so many of these cars on the market, how can you know which one is best for you?
Well, you're in luck! By considering the 2017 Mazda CX-3, you'll be equipped with a dynamic engine, impressive fuel efficiency, and a remarkable interior. Every inch of this SUV is handcrafted to ensure that your family remains safe and entertained on any road.
To see more of what this car has to offer, check out this 2017 Mazda CX-3 review created by Ocean Mazda. With the help of this overview, you'll realize that your perfect vehicle for long drives through Doral, Miami, Hialeah, and Kendall was at our dealership all along.
PERFORMANCE & HANDLING OF A TRUE ATHLETE
When you're thinking about purchasing a compact SUV, drivetrain is top of mind. You don't want a vehicle that struggles to reach high speeds while merging onto the highway or navigating heavy traffic. The 2017 Mazda CX-3 will give you all the capability you need with its 2.0L motor. Pushing out 146 horsepower and 146 lb-ft of torque, this vehicle doesn't blink an eye when accelerating.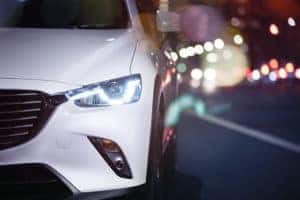 Plus, the responsive steering and handling of the Mazda CX-3 has been raved about by drivers. Tight corners and sharp curves are no match for this vehicle with its intuitive traction control. And with the bonus of the optional i-ACTIV AWD® (all-wheel drive) system, you'll never have to worry about unpredictable weather. Whether you're dealing with a foot of snow or rocky terrains, the 2017 Mazda CX-3 has the toughness to get you through anything.
CLASS-LEADING FUEL ECONOMY
When gas prices skyrocket, you'll want a car that sips on fuel. The 2017 Mazda CX-3 does just that with its top-notch fuel efficiency. This SUV boasts an EPA-estimated 29 city MPG and 34 highway MPG,1 proving that it's an excellent choice if you're concerned about guzzling gallons of gas.
On top of that, this superior fuel economy will give you peace of mind that you're doing your part to reduce pollution and keep our environment healthy.
AN INTERIOR TO INSPIRE
Upon sitting inside the 2017 Mazda CX-3, you may think that you're behind the wheel of a luxury vehicle. The finely appointed fabrics impart a sporty feel to the cabin, and the user-friendly dashboard allows you to have access to the controls at all times. On top of that, the attention to detail offered in the Mazda CX-3 creates an upscale style that's hard to find in other SUVs of its class.
To help you keep your eyes on the road, the Active Driving Display alerts you of your speed and other important information. That way, you'll never have to divert your eyes from what's ahead of you. In addition, the 7-inch touchscreen gives you access to entertainment and voice recognition devices and includes MAZDA CONNECT™. Also, by using the center console Commander button, you can easily navigate through the infotainment gadgets.
TEST DRIVE YOUR 2017 MAZDA CX-3 TODAY!
After reviewing everything included within the 2017 Mazda CX-3, it's hard to resist hopping into the driver's seat. You can do just that by stopping by the Ocean Mazda showroom and scheduling a test drive of this compelling SUV. Before you know it, drivers of Doral, Miami, Hialeah, and Kendall will be zooming down Ocean Avenue in their new Mazda CX-3.
1. Based on EPA estimates for 2017 Mazda CX-3 FWD models with automatic transmissions, 29 city/34 highway MPG. Actual results will vary.