2018 Mazda MX-5 Miata Dashboard Symbols
When you're cruising through the streets of Doral, Kendall, Hialeah, and Miami in your new 2018 Mazda MX-5 Miata, the last thing you want to see is one of those pesky dashboard symbols light up. What could possibly be going wrong with your roadster? It's bad enough knowing there's a problem, but it's even worse when you don't know what the problem is.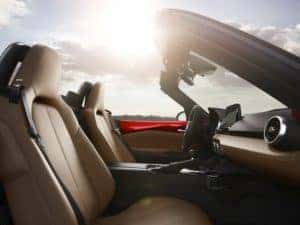 With our 2018 Mazda MX-5 Miata dashboard symbols guide, you'll never be left out of the know again. You can learn detailed explanations of the most important dashboard lights in your car and discover exactly what you need to do in response to each. Explore our light guide and become an expert on your Mazda MX-5 Miata.
Warning Lights
The warning lights are the ones you really need to be worried about. Not all the lights on your dash indicate problems, but these certainly do. You can usually spot them by their warm color, like yellow or red. Knowing the severity of each allows you to respond appropriately.
Brake System: This light depicts an exclamation point inside a circle above the word BRAKE, and it indicates a fundamental flaw within your braking system. Get this checked out immediately. Just test the parking brake first. This light will illuminate if you've left it on.
Charging System: Appearing as a car battery, this light indicates that your battery isn't charging properly. Get this fixed as soon as you can before you get stranded somewhere.
High Engine Coolant Temperature: This light looks like a thermometer slightly submerged in some kind of liquid. When you see it, it means your engine is too hot. Pull over and let it cool.
Power Steering Malfunction: If you see a light that looks like a steering wheel followed by an exclamation point, your power steering has a problem. Be careful, as steering is much harder without the power steering working properly.
Check Engine: We all know the dreaded check engine light. In your Mazda MX-5 Miata, it looks like an old engine block, and it indicates anything from a misfire to an emissions failure.
Indicator Lights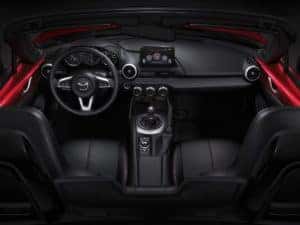 While warning lights may be cause for concern, these lights function more to alert you as to which features you currently have engaged. To illustrate their non-threatening nature, Mazda has made them cool colors like blue and green rather than their harsh warning light counterparts.
Headlight High-Beam: This light looks like a headlamp and should activate when you turn on your high beams.
Sport Mode: If your Mazda MX-5 Miata has a SPORT mode, this light will turn on when the mode is activated. Fittingly, the light is simply the word "SPORT".
High Beam Control System: This light is similar to the high-beam light except there is a letter "A" inside the headlamp. When you see this light, it means your automatic high beam system is working and activated.
Cruise Control: When your cruise control is set, you'll see a light that depicts a speedometer with an arrow pointing at the needle's position.
Service Center at Ocean Mazda
After looking through our 2018 Mazda MX-5 Miata dashboard symbols guide, you should be an expert on your roadster. If you encounter any lights that indicate a serious problem, you'll need a service center in the Miami, Doral, Kendall, and Hialeah areas you can count on. That's where Ocean Mazda is happy to help. Contact us to schedule your service appointment today.