Mazda MX-5 Miata Dashboard Light Guide

The 2019 Mazda MX-5 Miata is an impressive piece of technology. It's got comfort, speed, elegance, and luxury to spare. It also comes equipped with a high-tech dashboard chock full of useful information about your vehicle and its performance. The question is: What do the dashboard symbol lights mean?
When you're enjoying a leisurely drive around Doral, Miami, Hialeah, or Kendall, you don't want to be bothered by unexpected dashboard lights. That's where we come in. Our experts at Ocean Mazda have compiled a list of the most common lights that appear on your Mazda dashboard, and what each of them means for you and your car.
2019 Mazda MX-5 Miata Dashboard Details
There are two types of lights to be found on your Mazda dashboard. Indicator lights are a reminder about which features you're using while you drive. Generally, they're used to keep you aware of exactly what your car is doing, and how certain functionalities are being used.
Then there are warning lights. These are more serious than their indicator counterparts, and indicate something is off with your vehicle. When one of these appears, it's best to address it as quickly as possible to prevent a serious issue with your car.
Indicator Lights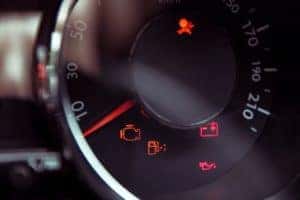 These are some of the most common indicator lights to be found on your dashboard, and what they mean for you and your ride:
Sport Mode: If the word 'Sport' pops up on your dashboard, it means (unsurprisingly) that you've entered Sport Mode for your Mazda. This promises higher driving speeds and an overall more energetic experience behind the wheel.
Headlight High-Beams: Shaped like your headlights, this light is a friendly reminder that your high beams are up and running. Make sure to turn these off when you're not using them, so you don't end up annoying your fellow drivers.
Cruise Control: Love to use your cruise control setting? We can't blame you; and if you do, you're very familiar with the image of a tiny speedometer appearing on your dashboard.
Warning Lights
When it comes to warning lights, it's always best to take care of them in a flash. You can contact our service center at Ocean Mazda for help, or to schedule service for your vehicle.
Check Engine: Designed to look like a tiny engine, this is probably not your favorite light to catch sight of. This is a catchall for engine issues, and covers most problems that can arise including minor issues and total engine failure.
Braking System: Notice the word "Brake" under an exclamation point? That's your car's way of telling you something is amiss with your brake system. Sometimes it can mean a minor issue (like you've forgotten to turn off the parking brake, for example), but it's still best to get that checked out before hitting the road.
Power Steering Malfunction: This light resembles your steering wheel and comes with an intense exclamation point to let you know it means business. Basically, this means your power steering has encountered some sort of issue and needs attention. The longer you hold off, the harder it will become to steer your vehicle, which could be very dangerous. Play it safe and contact Mazda as soon as this light appears on your dashboard.
Servicing Your 2019 Mazda MX-5 Miata
Notice something off with your dashboard, or just have a question about your Mazda? At Ocean Mazda we love helping customers from Doral, Miami, Kendall, Hialeah, and beyond! Swing by our dealership for more information, or schedule a service appointment. We'll demystify your dashboard and get you back on the road!