How to Bleed Brakes
The process of bleeding your car's brakes may not sound easy, but names can be deceiving. If you want to learn more about how to bleed brakes and potentially take this DIY project on yourself, you've come to the right place.
The following article brought to you by the service professionals at Ocean Mazda will guide you through how to properly rid your brakes of any excess air, so you can get back to driving around Doral, Miami, and Hialeah, FL, with confidence.
SIGNS YOU NEED TO BLEED YOUR BRAKES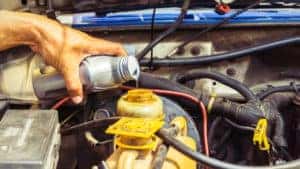 Bleeding brakes isn't a routine repair, which is why more questions tend to surround it. The most common symptom a driver may notice if they need to bleed their brakes is a spongy, soft sensation to the pedal, and the need to apply more pressure to get the same brake response. This is often following a brake repair, like replacing the pads.
What does this all mean? Before they were replaced, your brake pads likely wore down too much and ran the fluid in your brake system down very low. Now when you apply brake pressure at the pedal, air, instead of fluid, is getting added to your car's brake lines, causing a squishy pedal feel.
STEP BY STEP SOLUTION ON HOW TO BLEED YOUR BRAKES
In order to bleed your car's brakes, you'll need to make sure you have the following components close at hand:
your car's owner's manual
a helper
16 ounces of fresh brake fluid, preferably from unopened cans
a box-end wrench
1 turkey baster, a piece of aquarium tubing, and a clear plastic squeeze bottle
1 bucket and a clean microfiber cloth
a 1×4 plywood plank
Steps 1-5: Changing the Brake Fluid
Find your brake's bleeder valves and using your wrench, loosen the valve's bolts (keep the valves themselves closed).
Next, find the master cylinder reservoir and take off its cap. Using the turkey baster, siphon out as much brake fluid as you can from the cylinder, squeezing the old fluid into your bucket. Set aside. Use your cloth to wipe out any sediment in the bottom of the reservoir. Then, add clean brake fluid to the master cylinder, filling to the full line. Secure the cap.
Steps 6-10: Bleeding Brakes
Dispense a small amount of fresh brake fluid into the plastic squeeze bottle. Locate the bleeder bolt from the back-right wheel. Attach one end of the plastic tubing to the bleeder bolt, and the other to the squeeze bottle.
Next, put your piece of plywood under the brake pedal and get your helper behind the wheel. Instruct them to apply pressure to the brake as they usually would while coming up to a stop sign. When the pedal's down fully, tell them to give you a signal.
On the signal from your helper, turn the bleeder bolt a quarter turn to the left. You should see old fluid transfer through the tubing and into the bottle. When the fluid stops coming through, close the valve and have your helper take their foot off the pedal.
Repeat Steps 6-10 While Adding Fresh Fluid to the Master Cylinder
Repeat the steps above for the wheel at hand until fresh fluid enters the bottle. Once the back-right wheel is complete, repeat for the remaining wheel positions.
STILL HAVE QUESTIONS ABOUT BLEEDING BRAKES?
While a procedure like this is fun for the at-home mechanics among us, if you're unsure about any of the steps above, or would rather save time and have a professional handle it, the Ocean Mazda Service Center can help!
Our trained automotive technicians are your local brake experts serving Doral, Miami, and Hialeah, FL. We can help evaluate your brakes for wear, perform a brake fluid flush, or install new brake components such as pads or shoes. Schedule an appointment online with us today. 
The best part of the service experience was receiving communications from my service agent letting me know about the progress of work being done. I appreciate everything was set to meet COVID-19 safety. Thank you!
Great experience, and timely completion. Beautiful facility!
Since I arrived to Mazda Dealer Mr. Gerardo who attended me made the experience to buy a car an excellent experience, he explained me everything about the car, he was so helpfull and excellent saler. I will recommend both Mr. Gerardo and the Dealer also. Thanks for your help Mr. Gerardo Castillo
I always have a great experience at Ocean Mazda. Andy W that works in the Service Department is truly AMAZING!
Outstanding service and professionalism by Andy, my service advisor. The new facilities while waiting for the car are also very nicely equipped, luxurious, and comfortable.
Federico is an excellent salesman and professional who has all he qualities to handle his job.. I am glad he took care of me.
Ocean Mazda is a class act. Their customer service is the best as it seems that courtesy is their top priority. I currently own my car and it is treating me well but when it is time for me to purchase a new vehicle, they will definitely be on the top of my list.