Mazda CX-5 Lease Deals

Are you in the market for a compact SUV with enough comfort and convenience to effectively transform your driving experience throughout Doral, Miami, Hialeah, and Kendall? The Mazda CX-5 is able to do just that. If you're interested in learning about current Mazda lease deals, the folks here at Ocean Mazda will be happy to sit down with you and answer any questions you may have.
We've compiled the following information that includes a brief overview of the Mazda CX-5 itself, why leasing can be a good way to go, and the kind of treatment you can expect when you visit our finance department.
The Benefits of Leasing a Mazda CX-5
When you choose a Mazda CX-5 lease, you can be confident you're getting a quality vehicle with several noteworthy characteristics. One particularly useful feature is the Traffic Sign Recognition System that identifies road signs as you approach them and lets you view them on the Active Driving Display, so you can see them clearly. As a result, you're able to make the appropriate decisions well ahead of time.
The Mazda CX-5 also gives you plenty of potential for stowing with 30.9 cubic feet of cargo volume when the rear seats are up and 59.6 cubic feet when they're folded down.
Why Consider Leasing a Car?
There are a number of reasons it's advantageous to lease a car. For one, the possibility that you'll run into any significant maintenance problems is pretty slim. A big reason for this is that the vehicle will be under warranty for the entire duration of the lease, so you won't likely be financially responsible for any issues that arise. Also, the car you'll be leasing will be new. Again, the chance that anything major will crop up within the period of your lease is very unlikely.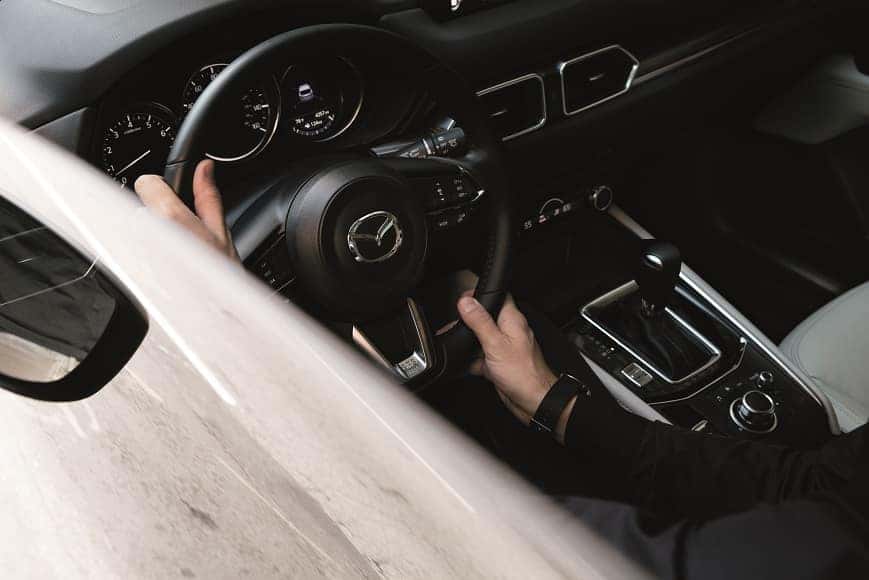 You're also not likely to have a down payment. Even if you do, it will be considerably lower than it would be if you were buying the car. The monthly payment should be less as well. This is because, with a lease, you're not paying for the whole value of the car like you would be if you were buying it. Therefore, you will only be responsible for the vehicle for the three to four years that it will be in your possession.
When the period of your lease has ended, you won't have to concern yourself with trading it in with significantly reduced value. All you need to do is turn it back in to the dealer. Then, you'll be free to pick out the next car you may like to lease.
Our Cooperative Finance Department
The folks over in the finance department are dedicated to helping you get the Mazda lease deal that works best for you. Accordingly, they'll take the time to sit down with you and discuss your budgetary needs and concerns. Based on that information, they'll present you with options that make the most sense.
Find Your Mazda CX-5 Lease Today
If you're ready to explore our current Mazda lease deals to see if leasing a Mazda CX-5 is in your future, swing by or contact Ocean Mazda in the Doral, Miami, Hialeah, and Kendall area to schedule your test drive today to get started.
Searching for the latest offers...