MAZDA CX-9 Safety

Drivers in the Doral, Hialeah, and Kendall areas who are shopping for their next SUV often ask us about the Mazda CX-9 safety features. We're always excited to tell them that this vehicle offers a lot of ways to help Miami area drivers stay safe during their commutes through town.
You can learn more about some of our favorite Mazda CX-9 safety features here, then contact the team at Ocean Mazda to check them out in person!
Collision Mitigation Features
Whether you're commuting through the city or cruising down the highway, the Mazda CX-9 offers available collision mitigation features designed to help you reach your destination safely by improving driver awareness.
These include features like:
Lane-keep Assist
Lane Departure Warning System
Blind Spot Monitoring
It also includes Mazda Radar Cruise Control. This available feature lets you set a preferred driving speed and following distance.
If you approach slower-moving vehicles on the highway, it'll automatically adjust your cruising speed to go with the flow of traffic. This includes bringing you to a complete stop during a traffic jam and automatically getting you moving again.
It also has available Advanced Smart City Brake Support. If you're traveling at slower speeds during city driving, this system can help you avoid potential collisions with other vehicles or pedestrians.
When it senses an impending impact, it issues a warning and prepares the brakes. Advanced Smart City Brake Support includes automatic emergency braking as well, which will automatically hit the brakes for you if necessary.
Visibility Safety Features
Another way the Mazda CX-9 helps to keep you safe is by offering a variety of features designed to improve visibility.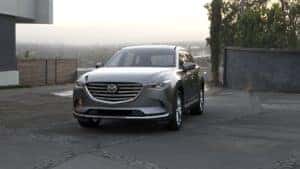 For example, during inclement weather, the available rain-sensing windshield wipers can automatically turn on and adjust their speed based on the rate of precipitation on the windshield. This way, you can focus more of your attention on driving and spend less time adjusting your windshield wipers.
The Mazda CX-9 also has available High Beam Control. This is useful when trying to navigate winding back roads. It automatically toggles your high beams on and off for you based on the flow of oncoming traffic and traffic signals. High Beam Control allows you to pay attention to where you are going without having to continuously turn your high beams on and off when traffic approaches.
Another useful visibility feature is the Adaptive Front-lighting System. This available system can help you see around dark corners by turning your headlights with your steering wheel. The headlights can pivot up to 15 degrees in the direction of your steering wheel to help you spot potential hazards. With this kind of feature, you may be less likely to be surprised by other vehicles or animals on the road.
Explore the MAZDA CX-9 Safety Features
The Mazda CX-9 offers so many safety systems. These include the active driver-assist and visibility systems we mentioned here as well as passive systems like advanced dual front air bags, front side-impact air bags, and an engine immobilizer.
We invite you to come check them out for yourself to see everything this SUV brings to the Doral, Kendall, and Hialeah areas.
Drivers in the greater Miami area can contact Ocean Mazda to test drive the Mazda CX-9 today!
Ocean Mazda is located at:
9675 NW 12th St • Doral, FL 33172