Mazda3 MPG

When you need a car that you can travel with every day, it's good to prioritize your fuel economy. You'll find just what you're looking for with the Mazda3, due to its clever engineering that makes the most out of less fuel.
If you're a Doral, Miami, Hialeah, or Kendall driver, our team at Ocean Mazda wants to help you find the right fuel-efficient car for you. Keep reading to learn all about what makes the 2019 Mazda3 so great at conserving fuel.
Mazda3 MPG: An Efficient SKYACTIV®-G Engine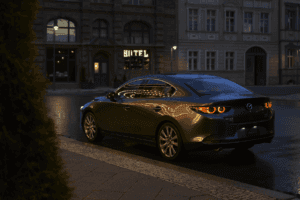 The Mazda3 is all about offering more performance while consuming less fuel, that's why it's been engineered with a SKYACTIV®-G 2.5L 4-cylinder engine. This powertrain puts out quite a bit of force with as much as 186 horsepower and 186 lb-ft of torque. Best of all though, you'll enjoy an EPA-estimated 27 city MPG and 36 highway MPG as well.1
At the center of it all is the use of SKYACTIV® TECHNOLOGY in the design of the engine. When building the SKYACTIV®-G engine, Mazda set out to build an engine that maximized the compression ratio while also preventing any knocking that occurs from high compression ratios.
The result is an engine that's able to produce more force while still offering drivers very fuel-efficient performance. This is just one example of how the Mazda3 is built with smart design to create a better overall driving experience.
A Smarter Transmission System
When it comes to enjoying the thrill of acceleration to the fullest, having the right transmission is important. Inside the Mazda3, you'll find smart design that improves vehicle performance with the SKYACTIV®-Drive 6-speed automatic transmission.
Drivers will notice the improved performance of this electronically controlled sport automatic transmission from the moment they pick up speed. That's because the gear shifts of this transmission have been designed to feel snappy, yet still smooth, for an improved sense of acceleration.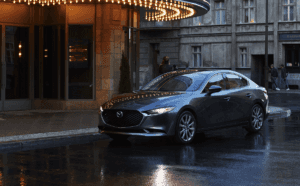 This transmission system has been engineered with a smaller torque converter and tight gear ratios to keep the transmission lightweight and efficient. The result is a transmission that's able to conserve fuel while still offering the excellent shifting performance that helps to make drivers feel connected to their vehicle.
Sleek and Minimalist Exterior Design
In order to help minimize work put on the engine from wind resistance, the Mazda3 has been built to flow with the wind rather than fight it. The body of this vehicle conveys a sense of speed at all times, making it look attractive while also helping it move more efficiently.
Test Drive the Mazda3
When you take a ride in the Mazda3, you'll notice how every aspect of this vehicle works to enhance performance. This car offers drivers improved engine output and sleek aesthetics while also using those same aspects to enhance your fuel economy.
It's for that reason we at Ocean Mazda believe that the Mazda3 is a great choice for drivers in the Doral, Miami, Hialeah, and Kendall areas. If you're interested in seeing how this vehicle makes the most out of every component, schedule a test drive with us online or over the phone today.
1 EPA-estimated mileage. Actual results will vary.
Ocean Mazda is located at:
9675 NW 12th St • Doral, FL 33172