What is a Brake Fluid Flush?

Making sure that your brakes are well cared for should be a top priority for any driver. We at Ocean Mazda care about the way your car drives, and that's why we have taken a look at brake flushing, what it is, and why you should do it.
Keep reading to learn why Doral, Kendall, Miami, and Hialeah drivers should make sure they keep up to date with their brake flushes.  Schedule a service appointment today!
What is Brake Fluid and Why Should You Flush It?
The brakes on your car function using a hydraulic system that requires a special fluid. This brake fluid is thick and functions under high pressure to help keep your brakes responsive. When functioning normally, this fluid remains clear and pure, creating ideal braking for your vehicle by utilizing hydraulic pressure.
However, over time, your brake fluid can become contaminated by water, air, and rust that gets into the system. Not to mention, over time, brake fluid can get old and discolored due to overheating within the system, resulting in less responsive braking. When left unchecked, old or contaminated brake fluid can result in spongey, unresponsive brakes.
A brake fluid flush is when you change your brake fluid entirely. It involves flushing out the brake system and filling up the master cylinder again with fresh brake fluid. It's recommended that drivers try to have their brakes flushed every two to three years to make sure their braking systems are well cared for.
Brake Flushing vs Brake Bleeding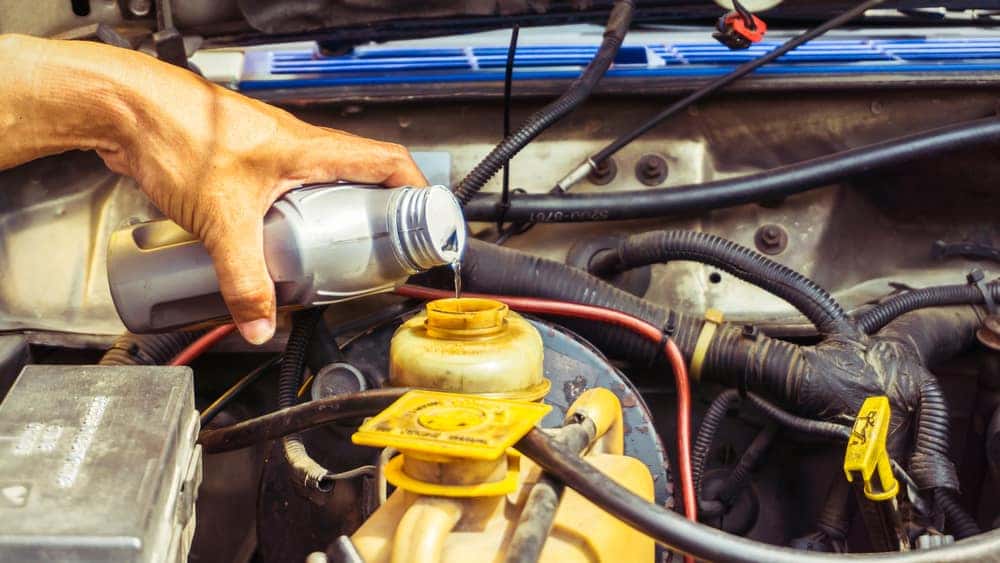 Something that many drivers may find themselves encountering when learning about brake flushing is the idea of brake bleeding. This is somewhat of a partial flush with the goal of releasing air from the braking system.
As opposed to a full flush of the system, brake bleeding works by releasing some of the brake fluid until the technician verifies that all the air bubbles have been released. A flush, on the other hand, is an entire removal of your brake fluid from the vehicle's system. While brake bleeding is more used for the purpose of tuning, brake flushing is more based on general maintenance.
Generally speaking, brake flushing is more recommended than brake bleeding. It should be noted that if you feel that your brakes have that spongey feeling, you shouldn't attempt to bleed or flush your brakes yourself. This can result in serious damage to the braking system if done improperly, so it's often advised that this service be performed at our service center.
Get Your Brake Fluid Flushed at Our Dealership
When it comes to having your brake system flushed, our dealership is here to help. We have a team of trained professionals who are well equipped to give your vehicle the care it needs. We want to help drivers in the Doral, Miami, Hialeah, and Kendall areas get the auto maintenance that will keep them on the road for years to come.
Do you think you're due to have your brake fluid flushed soon? Schedule your next service appointment with Ocean Mazda today!