Why Are My Brakes Squeaking?
Hearing squeaking as you cruise around Doral, Miami, Hialeah, and Kendall? The service team at Ocean Mazda wants you to be prepared for any potential issues with your car, so we created this helpful guide to why your brakes may be squeaking. Read through and contact our service center if you have any questions.
Common Reasons for Squeaking Brakes
If you've just gotten behind the wheel of your car in the morning and you hear some squeaking coming from your brakes, this may not be cause for alarm. Typically–especially after rain or snow–this sound occurs from surface rust being scrapped off the rotors by the brake pads.
After you apply the brakes a few times, this noise should go away. However, if it persists or if you hear it continuously while driving, this may indicate a larger issue. The following are some of the most common reasons you may be hearing an unusual sound coming from your brakes:
Thinning Brake Pads
Wouldn't it be nice if everything in life came with a warning? Well, luckily, your brakes do! They're built with an indicator that produces a continuous, high-pitched squeal when your brakes pads have become too thin. That way, you know it's time for a replacement. So, if you hear constant squeaking from your brakes, contact a service center right away.
Uneven Rotors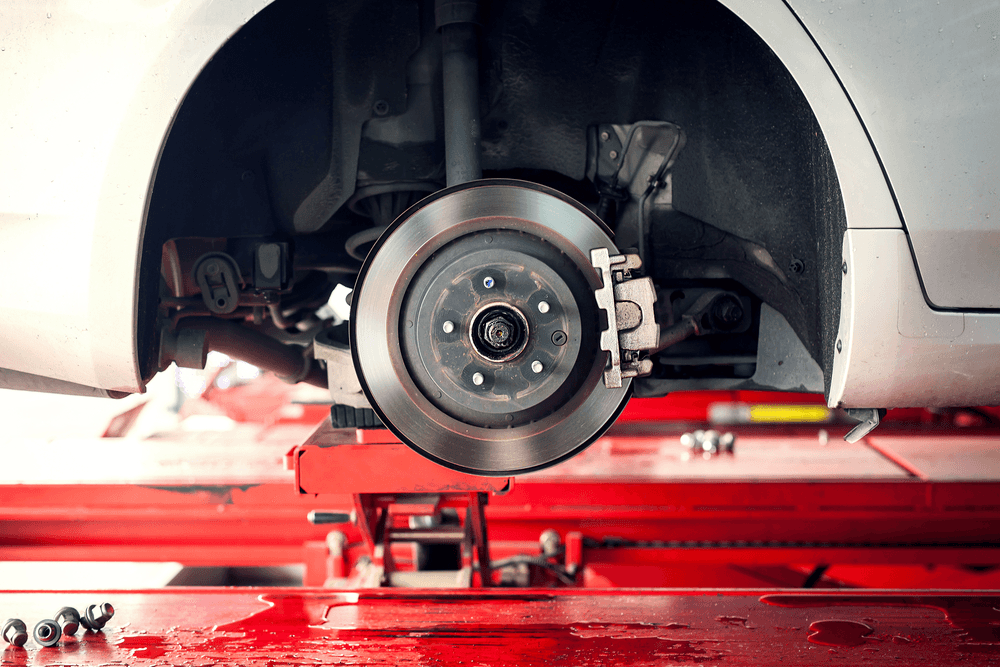 If a rotor has worn down unevenly, it doesn't allow the brake pad to press flat when you step on the brake pedal. Generally, vibrations are accompanied with the noise, so if you feel or hear anything unusual, you should get your brakes inspected.
It's a good rule of thumb to have your rotors replaced every 50,000 miles to guarantee they stay in proper working order. At this mile marker, have a service center inspect your braking system and replace any worn-out components.
Worn-Down Pads
If your brake pads have completely worn away, you may hear a grinding noise. If this is the case, seek assistance from a service center right away before further damage is done to your car's braking system.
Your brake pads should be replaced every 20,000 miles. However, driving habits may lead to these components lasting longer. Have a service team member inspect your vehicle at the recommended intervals to ensure everything's in peak shape.
Your brakes are one of the most important components in providing you with a safe drive, so it's essential you have them inspected if anything appears out of the ordinary. Contact our service center if you have any questions.
Visit Our Service Center Today!
Are your brakes squeaking? Visit our service center! The dedicated technicians at Ocean Mazda are highly trained to diagnose any issues and replace the necessary components to keep you safe on the fast-paced roads of Doral, Miami, Hialeah, and Kendall.
Reach out to us with any further questions you have about your car's braking system or auto services in general. Contact us today to schedule an appointment!