Best Food Trucks near Fort Lauderdale FL
If you want to get a quick bite while soaking in some rays, a food truck makes for a great pitstop during a busy day or an outdoor festival. Food trucks can be mysterious in their whereabouts, so we've put together this list of our favorite food trucks near Fort Lauderdale that are worth tracking down.
Box of Chacos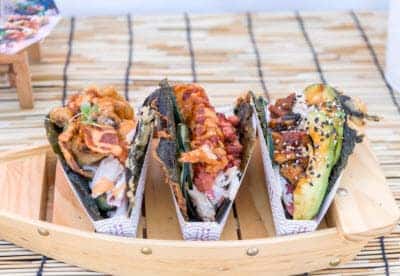 What's a "chaco," you ask? It's a combination of the words "Chinese" and "taco," and it's what Box of Chacos specializes in. They serve up creative, unique, and delicious food with a delicate balance that delivers an experience with every bite.
That experience includes a mix of flavors from all over Asia, with just the right amount of Latin flair. We recommend the Curry Skirt Steak Tacos, filled with Thai red curry, bleu cheese slaw, and special sauce. For our plant-based friends, the Vegan Carnitas are also good, featuring Chipotle braised jackfruit "carnitas," pineapple salsa, and tofu krema.
Check them out on Facebook for updates on events they're rolling up to next.
Fat Boyz BBQ
Fat Boyz BBQ claims to sell the best barbecue in South Florida and they have the reviews from happy customers to back it up. They use only the finest quality meats to serve up authentic BBQ sandwiches, homemade sides, and ribs so tender that they fall right off the bone.
If you want a taste bud explosion, try the Big Daddy sandwich, piled high with pulled pork, smoked mac 'n cheese, and brisket. For something classic, grab a plate of Beef Ribs. They're known for their big portions, so be sure to bring your appetite!
Follow them on Facebook for tantalizing photos of their BBQ.
Bae's Burgers & Grilled Cheese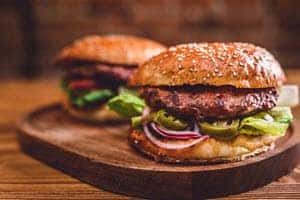 What could be more fun than a creative take on a classic dish? That's exactly what you'll get at Bae's Burgers & Grilled Cheese. They sell homemade (not frozen!) burgers, fresh cut fries, homemade guacamole, and inspired Grilled Cheese recipes.
We recommend the #MeltDownBae, which serves up grilled cheese with mozzarella, tomatoes, peppers, and onions. If you prefer a burger, try the #SummerBae, topped with pepper jack cheese, homemade guacamole, Chilean pico de gallo, and lettuce. Be sure to order your meal with a side of their fresh-cut garlic fries!
Find them on Facebook for fun memes and truck locations.
Grab a Bite While You Can!
The fun thing about food trucks is that they're rarely in the same place twice, so find out where these trucks are going, and hurry to get yourself a bite before they move on!