Fishing near Doral FL

Situated a few miles off the eastern shoreline of Florida, Doral is close to several prominent fishing locations. Depending on what you're looking to catch that day, different lakes, coastal areas, and services may interest you. Some of the more common fish you'll see include spotted sea trout and sailfish as well as largemouth bass.
To help you get out for a long day of good fishing near Doral, FL, we've written a short review of two noteworthy companies that would gladly provide you a memorable experience on the water. Continue reading to learn about fishing with Florida Peacock Bass and Urban Legends Fishing Charters.
Florida Peacock Bass
This charitable guide company believes in wildlife conservation and supporting the local fishing community. By working with a variety of other industry partners, Florida Peacock Bass attempts to protect Florida's freshwater fishing while offering great guiding services.
With over 15 fishing locations, these professionals know where and how to easily find peacock bass. No one can guarantee a trip full of heavy catches, but knowledgeable, positive guides can make the most out of any day.
Luckily, you don't need to worry about leaving dissatisfied if you unfortunately don't hook anything. The team at Florida Peacock Bass operates on a "no fish, no pay" policy; if you don't catch a fish while you're fishing with them, you don't pay.
What more could show commitment to customer service than guides who won't accept payment unless you catch the fish you've been eager to find? When you have a chance, browse their Facebook page to see other information like photos and reviews!
Urban Legends Fishing Charters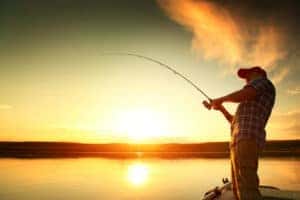 The guides at Urban Legends Fishing Charters are passionate fisherman who want to help you have a day you'll always remember. This crew understands that every excursion has a different outcome, but they remind us how every catch could be a possible International Game Fish Association (IGFA) record.
There are many sought after fish off the coast of Doral, FL, and in the freshwater lakes that are scattered inland. When you contact Urban legends Fishing Charters, you can choose one of three types of fish to request a boat and guide for—the peacock bass, snook, or tarpon.
If you have a larger group, that's just more people to get excited about fishing in the eyes of Urban Legends Fishing Charters. A multi-boat charter option lets you invite more friends to join in the fun.
Check out their Facebook page to learn more about this home-grown charter company before you book a trip!
All-Day Fishing Endeavors
The next time you're looking for fishing near Doral, FL, head over to Florida Peacock Bass or Urban Legends Fishing Charters. These companies will guide you the entire day in Florida's freshwater or coastal fishing areas.
If you want to catch some of the largest peacock bass with truly experienced guides, Florida Peacock Bass should be your go-to. Book a trip with Urban Legends Fishing Charters to take a group of any size out with a crew of dedicated fisherman to catch a variety of fish.