Mazda Car Comparisons

When it comes to buying a new car, there are a lot of variables to consider. From fuel efficiency and ride quality to safety and power, it can be overwhelming to find the right car to fit your needs, especially with so many options available.
Fortunately, our Mazda dealership provides a list of comparisons. which detail the riveting features you can expect with our line of vehicles. By comparing to similar vehicles, you can see the ways Mazda cars stand out against the competition.
Whether you are in Doral, Miami, Hialeah, or Kendall, knowing what to look for before you buy can help make finding the right car for your needs easier. Plus, with Ocean Mazda's comparison reports, the resources to make the right car-buying decision are a click away. If you have any questions, call us today.
Mazda6 vs Hyundai Sonata
Mazda CX-9 vs Honda Pilot
Mazda3 vs Kia Optima
Mazda CX-3 vs Subaru Outback
Mazda CX-5 vs Jeep Cherokee
Mazda CX-5 vs Hyundai Tucson
Mazda CX-5 vs Nissan Rogue
Mazda CX-5 vs Subaru Forester
Mazda CX-5 vs Subaru Outback
Mazda CX-5 vs Toyota RAV4
Mazda6 vs Honda Accord
Mazda6 vs Kia Optima
Mazda3 vs Ford Focus
Mazda3 vs Honda Civic
Mazda3 vs Hyundai Elantra
WHY READ COMPARISON REPORTS?
It can be difficult to make an informed car purchase as there are many makes, models, and trims to consider. Reading the comparisons between two cars allow you to see research materials all in one place.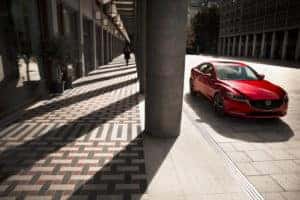 Our team understands that a car is a major purchase in your life and wants to inform you of what their cars have to offer versus the competition. Articles go into detail on information such as safety ratings, performance data, exterior and interior options, and technology features.
Whether you are buying or leasing, a new car is a big investment to make. By having detailed comparisons at hand, the normally stressful process of selecting a car can be made relatively easier.
FROM COMPARING TO BUYING
Ocean Mazda wants to be your car dealer from the start of the buying process to the finish. By providing you with thorough vehicle comparisons, you can learn the many ways our lineup of Mazda cars can meet the needs of every driver.
After reading the detailed reports, stop by to set up a test drive. We have a wide selection of cars and SUVs for drivers throughout Doral, Miami, Hialeah, or Kendall. To learn more information about our vehicles or to see more comparisons, call us  or visit us online today.
First off I must say, normally I would have walked away from this deal after dealing with a few sales people and managers at this dealership that just vanished without contact. I buy at least 12 cars a year for my companies and have never had a worst sale person. This dealership and our deal was completely saved by the finance Manager (Luis C). He is very professional and works Hard not to just complete the financing ( his only job) but he also did the salesmen's job. Luis C is a true professional that knows how to protect the dealerships ...
Nelson Ramirez, Jr. was the best sales person we have had. The service was excellent and the pricing great. The service was also outstanding, very fast response!
I'm proud of Ocean Mazda, because they helped me choose the best business and at the same time select the best car for my needs. I recommend the group of employees and at the same time I congratulate the Ocean Mazda company for selecting the right staff to get the best job.
My vehicle had damage in the gas tank and I was towed to Ocean Mazda because it was the closest dealership next to me. Joey helped me from me from beginning to end and he was extremely helpful. He kept me updated throughout the entire process and went into great detail to explain the everything to me. I was very well taken care of there.
They received mi vehicle for a warranty replacement battery (with no appointment), and the work was done quick; the communication implemented by them via txt msg or e-mail is a great initiative. Thanks Andy for an excellent service.
Ocean Mazda was exceptional. Manny, Miguel, Beatriz, and Alan were the perfect team. I've had a lot of issues with other dealers. It was nice to find one with stand out and genuine people. I would recommend them every time!
I felt taken care of and will continue to bring my vehicle here. Courtesy ride with the tab picked up by the dealership. Polite correspondence that kept me up to date as my car was worked on; very impressed and appreciative of Joey's ability.
Friendly service done well.
La atención estuvo impecable, tuve que esperar un rato para que me atendieran , pero aparte de eso todo estuvo muy bien, me encantó el video que te mandan