Mazda Car Comparisons

When it comes to buying a new car, there are a lot of variables to consider. From fuel efficiency and ride quality to safety and power, it can be overwhelming to find the right car to fit your needs, especially with so many options available.
Fortunately, our Mazda dealership provides a list of comparisons. which detail the riveting features you can expect with our line of vehicles. By comparing to similar vehicles, you can see the ways Mazda cars stand out against the competition.
Whether you are in Doral, Miami, Hialeah, or Kendall, knowing what to look for before you buy can help make finding the right car for your needs easier. Plus, with Ocean Mazda's comparison reports, the resources to make the right car-buying decision are a click away. If you have any questions, call us today.
Mazda6 vs Hyundai Sonata
Mazda CX-9 vs Honda Pilot
Mazda3 vs Kia Optima
Mazda CX-3 vs Subaru Outback
Mazda CX-5 vs Jeep Cherokee
Mazda CX-5 vs Hyundai Tucson
Mazda CX-5 vs Nissan Rogue
Mazda CX-5 vs Subaru Forester
Mazda CX-5 vs Subaru Outback
Mazda CX-5 vs Toyota RAV4
Mazda6 vs Honda Accord
Mazda6 vs Kia Optima
Mazda3 vs Ford Focus
Mazda3 vs Honda Civic
Mazda3 vs Hyundai Elantra
WHY READ COMPARISON REPORTS?
It can be difficult to make an informed car purchase as there are many makes, models, and trims to consider. Reading the comparisons between two cars allow you to see research materials all in one place.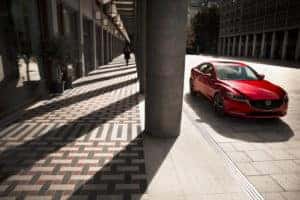 Our team understands that a car is a major purchase in your life and wants to inform you of what their cars have to offer versus the competition. Articles go into detail on information such as safety ratings, performance data, exterior and interior options, and technology features.
Whether you are buying or leasing, a new car is a big investment to make. By having detailed comparisons at hand, the normally stressful process of selecting a car can be made relatively easier.
FROM COMPARING TO BUYING
Ocean Mazda wants to be your car dealer from the start of the buying process to the finish. By providing you with thorough vehicle comparisons, you can learn the many ways our lineup of Mazda cars can meet the needs of every driver.
After reading the detailed reports, stop by to set up a test drive. We have a wide selection of cars and SUVs for drivers throughout Doral, Miami, Hialeah, or Kendall. To learn more information about our vehicles or to see more comparisons, call us  or visit us online today.